Literary Sources of Azerbaijani Multiculturalism
published by the Baku International Multiculturalism Centre, 2016
ISBN 978-9952-28-342-2
Receiving this little volume left me quite surprised.
As the table of content shows, this book features 78 (!) different Azerbaijani authors – and Kurban Said is one of them.
The short excerpts presented in the Ali & Nino chapter gives me the impression that this book is a signal of readiness to stretch out the hand to … whoever wants to take it.  Something to soothen the otherwise prevailing war rethorics on a more outward level. I presume that nothing in Azerbaijan of this scale is published without the consent of the governement, so this book is to be regarded as an official signal of appeasement.  And that even more since this quotation by the State President Mr. Ilham Aliyev is to be found on the introductory page: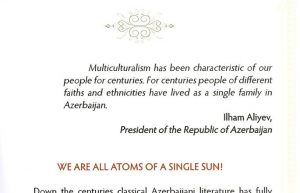 And what a wonderful first headline: We Are All Atoms of a Single Sun!
In general I welcome this book – and this for different reasons. It appears to be a peace project of the Azerbaijani Government.
Looking at the chapter about Kurban Said's Ali & Nino I feel the need to add som editorial remarks.
It can be regarded as a well-meaning compromise to mention both "candidates" for the authorship to Ali & Nino. This balanced way is a progress. Of course I would have preferred if finally the name Çemenzeminli would have been dismissed. But I mustn't be surprised it wasn't – rather I should be motivated to finalize my collection of proof why the novel was written by Essad Bey (Lev Nussimbaum). So far Betty Blair has led the field with her infamous publication.
But the time will come and the tide will change – eventually.
I had to smile because Essad Bey AND Çemenzeminli are mentioned equally in the text – however, the life dates given are Essad Bey's. Nice, thank you!

Page 260 f.: Qurban Said (1905-1942)
The use of the term "core author" is a telltale sign that also Betty Blair's work was consulted. The term "core author" is coined by her – although it is not clear what is meant by it. Perhaps this: "A man was in love with a woman called 'N'." (Don't worry if you don't understand this sentence. The right people will understand. Perhaps I'll go into it at a later date.)
If that's the core … perhaps. But there were many men being in love with Nigars, Ninos, Narmins, Nazriennes, Nurays, Nermins etc. It is not a unique feature for an Azerbaijani man to be in love with a woman whose name is abbreviated with "N", nor to kiss her in the Governor's Garden.
The author of this article quotes Ali's last name in the way the Vezirov brothers translated it from the Turkish edition in which it was spelt Şirvanşir – the Turkish came from the English spelling: Shirvanshir – and the English came from the German spelling: Schirwanschir.
However, the Vezirov brothers made "Cavanşir" in their Azeri edition from the Turkish version "Şirvanşir". And here in the reviewed book "Cavanşir" became Javanshir.
Essad Bey created his variation Shirvanshir of the the former ruling Khan's name Shirvanshah. He also used the names of the other protagonists in the novel not by chance but with intention. This subject will be treated in my forthcoming book.
The few excerpts from the novel here in this volume were not taken from Jenia Graman's English translation, but were – for obvious reasons – translated into English from the Vezirov brothers' translation, which, in turn, had been translated from Turkish – Hurriyet, Istanbul 1971 – into Azeri, published in 2004. The Turkish, of course, was in turn a translation from Jenia Graman's English translation – and her text is of course a translation from German.
So the translation given in this book is is a translation of a translation of a translation of a translation. Fair enough: the particular meaning of the text did survive.
This leads me to an inaccuracy in the bibliography on page 268 (number 50) where it is stated that this translation by the Vezirov brothers was published by Şərq Qərb* in 2006. This is an error. The Şərq Qərb edition of 2006 contains Mirza Mikhailov Khazar's translation from the German.

The translation of the Vezirov brothers was published 2004 by the Folklore Institute, Baku (light blue cover) and reprinted in 2007 (dark blue cover) – both editions with Çemenzeminli's portrait on the frontcover and nowadays very hard to find. I own both of them.
The longer quote and the short quotes on pages 262 and 263 were carefully picked for their multicultural, multireligious and multinational statements. Musa Nagi, a practising Baha'i, is being quoted for his wonderful universal message of love and faith. Then the beautiful girl's Georgian heritage is praised as much as the wonders of the city of Shusha (to my knowledge the most important city of Nagorno Karabagh) – and how Christians and Muslims used to celebrate together.
All in all the message of this book is peace and this felt strongly. That's why I believe this book can only be recommended.
Some thoughts a while after writing this review:
It became clear to me that Azerbaijan is feeding from its past. They are putting on these old shoes of multiculturalism and show them in the shining light of the present. But if one thinks that this means, the current social reality is led by freedom, is mistaken.
As each farmer knows he has to prepare the soil in winter so that new produce can grow in spring. However, the current government does not do that. There is no social or political climate in which great minds can unfold to their full potential.
So today I am somewhat tempted to say that the Azerbaijani government is throwing sand in the eyes of the reader with such books.
But it still this one is a beautiful one.
* Sorry, no way to use the Azeri letters here in WordPress aesthetically.